Toronto Blue Jays
Draft History
2018
Anthony Alford - protection
6 - Matt Chapman
36 - Tyler Mahle
81 - Scott Alexander
91 - Brian Duensing
96 - Ryan Tepera

2017
Darwin Barney - protection
16 - Reynaldo Lopez
30 - David Paulino
55 - Teoscar Hernandez
112 - Joe Biagini
144 - Ian Krol

2016
Roberto Osuna - protection
75 - Tim Cooney
105 - Dustin Garneau
132 - Jose Urena
137 - Max Muncy
145 - Tyler Wagner

2015
Marcus Stroman - protection
25 - Rymer Liriano
75 - Steve Tolleson
85 - Justin Bour
99 - Marc Rzepcynski
145 - Carson Smith

2014
Sean Nolin - protection
22 - Corey Dickerson
49 - Brandon Workman
52 - Caleb Gindl
82 - Tim Stauffer
85 - Blake Porter
142 - Kyle Drybek

2013
Adeiny Hechavarria - protection
101 - Ryan Mattheus
119 - Brad Brach
128 - Wesley Wright
149 - Steve Pearce

2012
Brett Lawrie - protection
35 - Bryan Peterson
52 - Alex Cobb
100 - Rich Thompson
125 - Luis Perez

2011
Kyle Drabek - protection
88 - Frank Herrmann
101 - Eric Sogard
108 - Casey Janssen

2010
Ricky Romero - protection
40 - Eric O'Flaherty
55 - Jason Bulger
83 - Brian Sanches

2009
Travis Snider - protection
23 - Max Ramirez
53 - Matt Harrison
69 - Joshua Outman
113 - Ramon A. Ramirez
142 - Jason Michaels
143 - Cesar Jimenez


2008
Jesse Litsch - protection
20 - Manny Parra
80 - Dan Ortmeier
110 - Billy Buckner
140 - Omar Quintanilla

2007
Adam Lind - protection
11 - James Shields
46 - Casey Janssen
82 - Ryan Feierabend
136 - Mike Rivera

2006
Aaron Hill - protection
11 - Jason Vargas
43 - Andrew Lerew
127 - Mike Edwards
133 - Heath Bell

2005
Alexis Rios - protection
107 - Ryan Raburn
118 - Abe Alvarez
147 - Eric Crozier
148 - Scott Downs

2004
Reed Johnson - protection
80 - Ron Mahay
126 - Mark Corey
143 - Jared Fernandez
149 - Jorge Villendia

2003
Eric Hinske - protection
15 - Joe Borchard
87 - Tony Fiore
147 - Luke Hudson

2002
Brandon Lyon - protection
19 - Nate Cornejo
84 - Travis Phelps
109 - Dicky Gonzalez
139 - Brad Voyles

2001
11 - Chuck Smith

70 - Randy Keisler
71 - Josias Manzanillo
72 - Joel Piniero
103 - Joey Nation
Past Owners:
Mike Hashley 1989-1990

Overall Record
Win Loss Pct
2520 2270 .526
Est. 1989
Owner: Alex Bertland - 1991
Blue Jays owner Alex Bertland in his nest way up in the rafters of the Rogers Center
Blue Jays series #1 thru #20 Instruction sheet
American League Pennant
2012

AL East Pennant
1992
1993
1994
2002
2003
2004
2008
2012
2013
2014
2015

AL Wild Card
1989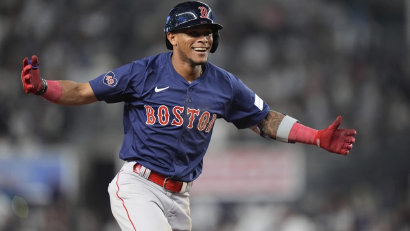 Toronto Blue Jays Award winners

Most Valuable Player
2010 - Adam Lind

Fireman Relief Award
2015 - Casey Janssen
2013 - Casey Janssen
2012 - Ryan Madson

Silver Sluggers
2015 - Jose Altuve - 2B
2015 - Jarrod Saltalamachia - C
2012 - Mike Napoli - C
2010 - Josh Willingham - OF
2010 - Adam Lind - DH
2006 - Lyle Overby - 1B
2006 - Derek Jeter - SS
2001 - Troy Glaus - 3B
2001 - David Justice - OF
2017: 64-98, 5th in AL East, Draft Position 6

Overview: It is obviously hard to write objectively about this team. I know the players better (maybe) but I also know the history of the team and, perhaps, what the team is trying to do. But here it is.

This team actually went to the World Series, somehow, in 2012. That started a run of four consecutive AL East titles. Some of those wins were due more to a general lull in the division than a quality team. However in 2015, the Jays went all in only to drop a seven game series to the upstart White Sox in the ALDS. During that period, they spent many territorials and draft picks to keep the organization going. Then the team, particularly the pitching staff, imploded. Reinforcements have been slow to arrive. This has led to two consecutive lottery draft pick seasons, both of which the Jays lost relegating them to 6th.

Right now, the team has a remarkable middle infield of Jose Altuve and Didi Gregiorius but not much else. The question is whether this team can retool before the last embers of the championship run evaporate: Carlos Gomez, Matt Kemp etc. They have acquired some youth like Reynoldo Lopez and Cory Spangenberg, but it is unclear what their value will be. It is especially unclear whether this team should try to crawl out of the basement or trade off more stuff to keep getting the draft picks. That is the dilemma.

Jeff Sullivan of Fan Graphs has been on a campaign to make a distinction between rebuilding and tanking. He draws the distinction by defining rebuilding as prioritizing long term value over short term value. He defines tanking as actually tearing the whole team down to the studs and starting again. I think it is a good distinction to make in real baseball, but I have wondered what it means for this league.

In this league a team cannot trade away a player randomly and play a rule V guy in that spot for a season. So Sullivanís definition does not carry over easily. A team in this league needs to field a team. The Jays held onto Kemp not because they wanted to but because they had to keep the team on the field and could not find as reliable a replacement. So a team cannot tank like in real baseball.

I think in this league a tank is when a team trades away its ace pitchers. On one level, this is more doable than trading position players because it is easier to find replacement starts. At the same time, a team needs to do this if it is going to get a lottery pick because one ace can generally take a team out of the lottery. On another level, this shows the risk of tanking in this league. Ace starters are the most essential piece needed for a team to win. They are also the hardest to trade for. They may also be the most volatile commodity. So when a team tanks, it may take a very long time for it to come back.

So, if this is tanking in this league, is it worth it? I think these are open questions. I am not sure if the Jays tanked technically under this definition. If it did, it actually tanked when it traded Marcus Stroman. But that was what got them the team in 2015. So it would be a proactive tank which I am not sure is a tank.

But the question is whether the Jays will ever come back? Will they ever find an ace? This may indicate the value of tanking for teams that intentionally do it.

Starting Rotation: Alex Cobb is an interesting number 1, but he does not match up against most other aces. Ivan Nova and Jhoulys Chacin both get nailed by lefties. They should dominate against some line-ups, but be torched by others. The variety of guys in the 4-5 holes are not abysmal but not special.

Bullpen: Their closer, Santiago Casilla, is questionable. They got Shane Greene in a deal who should help. Like many teams in the AL, they should draft a few relievers.

Starting Lineup: Jose Altuve will crush the ball, but he does not have that much help. The team will score some runs because guys like Didi Gregorius, Carlos Gomez, Corey Dickerson and Mitch Moreland have power. This should play well in the Rogers Centre, but the team will struggle to get on base as much as some of the better offenses in the league. Martin Maldonado will help with the running game but he is a liability offensively.

Defense and Speed: Altuve should steal a bunch of bases, but after that, there is not much speed on the basepaths. Gregorius will help out defensively at short and Mitch Moreland will help at first. But newly acquired Cory Spangenberg is a liability. Fortunately, it looks like Matt Kemp will be able to play dh.

Surplus/Deficiencies: There are a bunch of aging guys the team would like to move but they did not hit well enough to help a contender and the Jays would need something back. There are rumors that the team would move Alex Cobb, perhaps to go into the tank, but nothing has happened so far. The indefatigable Darwin Barney hits lefties ok and can play a bunch of infield positions. However, the Jays would need a utility guy back. The only real need, however, is in the bullpen.

Outlook: This team could do things to make themselves better or worse in the short-term. If they stand pat, they may be able to do better than the Yankees in the division. They could even crawl past a couple of others. But depending on how their pitching prospects/suspects go and how their group of older ex-outfield prospects develop, they could be down at the bottom of the division for quite some time.
Blue Jays series #21 on Instruction sheet