11
Barry Larkin
Barry was 'the Captain". He played 17 seasons for the Reds and only the Reds. He is the all-time leader in almost every offensive category for the Reds. Larkin was named to the All Star team 11 times. He was voted Reds player of the '90s. Barry Larkin was inducted into the NBC-Dynasty League Hall of Fame in 2006.
49
Rob Dibble
Known by many as "The Devil", Rob Dibble tormented opposing hitters from 1989-1994. He is the Reds all-time saves leader with 139 saves. He was known for his strike outs and once struck out 126 hitters in only 92 innings. Dibble was a 4 time All Star, but had to retire early after battling injuries
44
Eric Davis
Eric "the Red" was in a Reds uniform for 11 seasons from 1989-1994, 1997, 1999-2002. He was the NBC MVP during the 1990 season when he batted .342 with 35 HRs, 140 RBIs and 40 SB. Eric was also a 3 time All Star. He was a huge part of the 1999 World Champion Reds, that season he was an All Star and winner of the Silver Slugger Award.
17
Chris Sabo
"Spuds" or Chris Sabo was a fan favorite in Cincinnati. his steady play at 3rd base from 1989-1994 allowed the Reds to pencil him in everyday. He retired with 150 HRs and 578 RBIs through 6 seasons. He was voted to the 1992 All Star team.
27
Jose Rijo
Rijo was the Ace of the Reds for many years. He played 9 seasons in Cincinnati from 1989-1996 and then came out of retirement for one final go of things in 2003. His lifetime record is 162-62 and retired with an ERA of 2.81. He was a 2 time All Star and is near the top of every pitching category in Reds history. Jose Rijo struck out 20 batters in one game vs the New York Mets.
23
Hal Morris
Hal Morris was a hit machine. He was up in the league leaders for average every year. He hit over .350 twice during his 10 year career, which was 1991-2000. Morris was an All Star 2 times. He ended hi scareer hitting .303 and 303 2Bs, whiling flashing great leather at 1st base.
24
Bobby Bonilla
Bobby B was a force in the Reds lineup for 7 seasons, 1992-1998. He hit HRs during his stay, but is mostly remembered for his doubles. He lead the league twice in doubles, once he hit 72 two baggers in a season. He ended his career in Cincy with a .303 average, 299 2Bs, and 190 HRs. He was elected to the All Star team 3 times.
12
Steve Finley
21
Roger Clemens
NBC-Dynasty Champions - 1999, 2006
Reds management scouting during spring training
Finley played 9 seasons in Cincinnati were he roamed CF with great ease. Steve had six 30 plus home run season with the top mark of 42 in 2000. He was key member of the 2006 World Series team and an All Star in 2003. Fins as the locals call him was a fan favorite and could be counted on to play 160 plus games almost every year.
The Rocket was one of the most dominate picthers to every pitch in the NBC. Though his career has been tarnished by his morals, he holds many Cincinnati records. His 2703 strike outs in Cincinnati alone is jaw dropping. He won 186 games for the Reds and 2 World Series. He is a 4 time All Star and won 1 Cy Young award. Love him or hate him (there are plenty of both), he was amazing in his 10 seasons as a Red.
Reds series 1 thru 19 Instruction sheet
National League Pennant
1998
1999
2002
2006
2008
2009

NL East Pennant
1991
1992
1993
1994
1995
2006
2008
2009
2011
2014
2017

NL Central Pennant
1996
1998
1999
2000
2002
2003

NL Wild Card
1989
1990
1997
2008
2012
2013
2015
2018
Reds player of the 2000's
Adam Dunn
Reds player of the 1990's
Barry Larkin
Cincinnati Reds
Est. 1989
Draft History
2021
Tyler Stephenson - protection
14 - Jose Garcia
37 - Shogo Akiyama
44 - John Curtiss
52 - Wes Benjamin
125 - Tyler Heineman

2020
Nick Senzel - protection
5 - Jesus Luzardo
15 - Cole Tucker
28 - Hunter Harvey
37 - Nick Anderson
54 - Randy Dobnak
83 - Ryan McBroom
84 - Josh Rojas

2019
no protection
22 - Steven Duggar
74 - Daniel Ponce de Leon
112 - Wily Peralta
131 - Ildemaro Vargas

2018
Luis Castillo - protection
25 - Jose Pirela
55 - Antonio Senzatela
66 - Sal Romano

115 - Jimmie Sherfy
137 - Eric Young Jr.

2017
Dan Straily - protection
12 - Mitch Haniger
20 - Andrew Toles
39 - Hector Neris
64 - Robert Stephenson
71 - Jake Barrett

2016
Raisel Iglesias - protection
7 - Jose Peraza
12 - Joe Ross
30 - Rob Refsnyder
56 - Chi Chi Gonzalez
59 - Michael Lorenzen
83 - Jarrett Parker

2015
Tucker Barnhart - protection

10 - Collin McHugh
15 - Steven Souza
31 - Cory Spangenberg
64 - Chris Hatcher
68 - Anthony DeSclafani

2014

Billy Hamilton - protection
53 - Marcus Semien

100 - Stomly Pimental
122 - Donald Lutz
145 - Tuffy Gosewisch

2013
Didi Gregorius - protection
11 - Erasmo Ramirez
42 - Tony Cingrani
81 - George Kontos
97 - Jared Hughes
121 - Jeremy Hefner


2012
Devin Mesoraco - protection
28 - Javy Guerra
34 - Cristhian Martinez
65 - Brandon Crawford
66 - Todd Frazier
127 - Dylan Axelrod

2011
Aroldis Chapman - protection
11 - Danny Espinosa
30 - Brett Wallace
45 - Alexi Ogando
102 - Chris Valaika

2010
Drew Stubbs - protection
9 - Julio Borbon
46 - Daniel Ray Herrera
70 - Juan Gutierrez
85 - Tyler Colvin
125 - Kevin Mulvey

2009
Jay Bruce - protection
5 - Justin Masterson
13 - Grant Balfour
49 - Ryan Hanigan
58 - Luis Rodriguez
97 - Mike Lincoln

2008
Homer Bailey - protection
4 - Josh Hamilton
18 - Joakim Soria
27 - Andy Sonnanstine
34 - Norris Hopper
43 - Bobby Seay

2007

Elizardo Ramirez - protection
8 - Chad Billingsley
15 - Lastings Milledge

18 - Kevin Kouzmanoff
27 - Ben Zobrist
30 - Ricky Nolasco

86 - Bill Bray

108 - Martin Prado
120 - Alexis Gomez

2006
Edwin Encarnacion - protection
34 - Edinson Volquez
64 - Chris Denorfia
103 - Brian Shackelford
124 - Jason Repko

2005
Luke Hudson - protection
8 - John Buck
23 - Russ Adams
36 - Daniel Cabrera
42 - Brian Bruney
58 - Duaner Sanchez

2004
Ryan Wagner - protection
31 - Juan Dominguez

45 - Stephen Smitherman

76 - Ray Olmedo
103 - Luis Terrero
120 - Jack Cressends

150 - Roy Corcoran

2003
Austin Kearns - protection

28 - Jeremy Affeldt
49 - Wily Mo Pena
69 - Joe Borowski
71 - John Stephens
99 - Trey Lunsford
111 - Ryan Bukvich
148 - Ryan Thompson

2002
Adam Dunn - protection
25 - Jose Acevedo
53 - Willie Harris
75 - Vance Wilson
92 - Angel Santos
113 - Mike Buddie
148 - Felix Martinez

2001
8 - Pedro Feliz
69 - Hiram Bocachica

99 - Reggie Taylor
145 - Chris Turner
Overall Record
Win Loss Pct
2869 1968 .593
Owner: Scott Eggen - 1989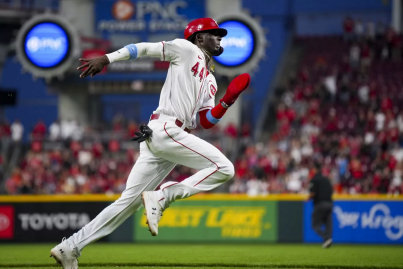 Cincinnati Reds Award winners

Most Valuable Player
2017 - Adrian Beltre
2013 - Adrian Beltre
2011 - Josh Hamilton
2006 - Derrek Lee
2001 - Jason Giambi
1990 - Eric Davis

Cy Young Award
2011 - Roy Oswalt
2002 - Kevin Appier
1999 - Roger Clemens

Rookie of the Year
2012 - Josh Collmenter
2008 - Josh Hamilton

Fireman Relief Award
2018 - Aroldis Chapman
2015 - Aroldis Chapman
2014 - Aroldis Chapman
2011 - Joakim Soria
2010 - Joakim Soria
2009 - Joakim Soria
2008 - Joakim Soria
2006 - Mariano Rivera
2000 - Scott Williamson

Silver Sluggers
2019 - David Peralta - OF
2018 - Joey Votto - 1B
2017 - Joey Votto - 1B
2017 - Adrian Beltre - 3B
2015 - Adrian Beltre - 3B
2013 - Adrian Beltre - 3B
2013 - Josh Hamilton - OF
2012 - Adrian Beltre - 3B
2011 - Josh Hamilton - CF
2009 - Josh Hamilton - CF
2009 - Andre Ethier - OF
2008 - Adam Dunn - OF
2006 - Derrek Lee - 1B
2005 - Adam Dunn - OF
2005 - Barry Larkin - SS
2002 - Jason Giambi - 1B
2001 - Jason Giambi - 1B
2001 - Barry Larkin - SS
2000 - Barry Larkin - SS
1999 - Eric Davis - OF

No Hitters
2000
Brett Tomko vs Milwaukee Brewers
1999
Brett Tomko vs Minnesota Twins

Hit of Cycle
2017
Joey Votto vs New York Mets
2012
Josh Hamilton vs Philadelphia Phillies

Home Run Derby winner
2017 - Adrian Beltre
2013 - Josh Hamilton
2011 - Josh Hamilton
Reds series 20 Instruction sheet